"I have a bad feeling about this..."
Here's some photos from the storm.
I apologize for the bad quality photos, I took them on my phone.
Street totally closed off due to trees collapsing.
Precarious situation with heavy frozen limbs hanging over power lines.
Collapsed laurels leaning into the street. Note power lines above.
Only one lane of this road open.
Power lines. These power lines are maintained by Tacoma Power. Fortunately they were just here recently trimming.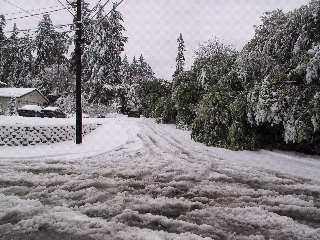 Road completely blocked.